Smart Price Negotiation w/
Bargain Bot for WooCommerce
Allow shoppers to Make Their Offer Now with a Bargaining Bot. Win more customers with smart price negotiations. Allow shoppers to make an offer on your price and bargain. Capture shoppers while they have a high intent to purchase. Supports Exit intent popup for product single page.
Bargain Bot can work with any WooCommerce website in LightBox mode or as an addon for the ChatBot WoowBot!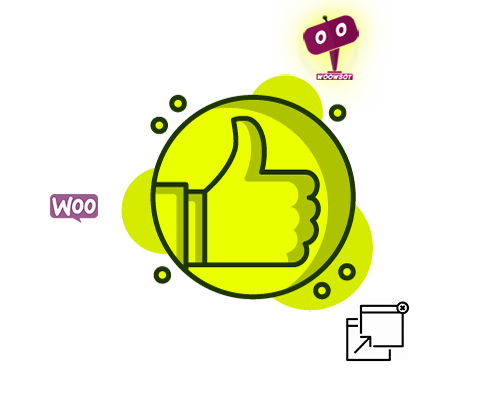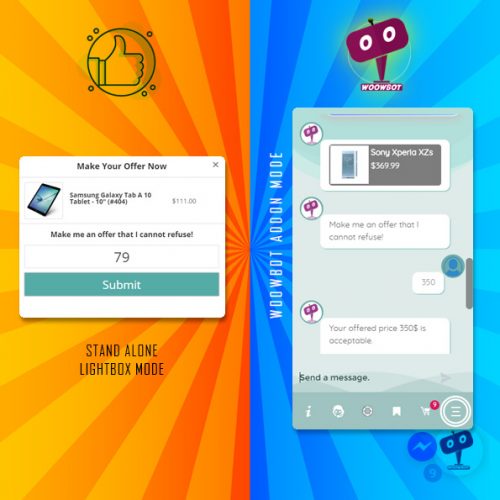 What is the Bargaining Bot?
Say goodbye to the old and boring way of offering discounts for the sake of it. Let your customers haggle for it. Bargaining Bot is the World's first negotiation bot for WooCommerce. Shoppers are more likely to take advantage of their discount if they have to "work" for it. It makes the shopping experience much more lively and interactive.
Once a deal is made by the Bargaining Bot, the shopper can complete the checkout with the discounted price.
If no deal is made, the ChatBot offers to email the shopper's last offered price to the shop admin. Admin can then email the Customer to complete the deal.
Why do I need a Bargaining Bot?
Price is the most important factor in a shopper's decision to buy, yet most shoppers leave because your fixed price is a few dollars too high. The Bargaining Bot lets you capture more sales because the price is negotiated based on what the customer is willing to pay and the minimum price at which you are willing to sell.
Here is why the Bargain Bot will earn you higher revenue and profit margins:
Higher Engagement – the Bot creates a new engagement point for shoppers to interact with your products instead of leaving
Capture the WooCommerce shoppers while they have a high intent to purchase. This addon helps keep them on your site to finalize a price deal
Higher conversions – shoppers love to feel like they are getting a great deal – this addon allows them to pay less than the listed price and therefore convert to a sale
All offers are responded to in seconds based on a minimum price point that you set
Super easy to install – no coding necessary
Super easy to configure – apply the addon in seconds
Bargain bot automatically pops up if a user wants to close the browser window from your product single page.
Offers do NOT require shoppers to enter their email address to make an offer so you get many more offers made, more offers accepted, and more sales
Once shoppers buy one thing using this method, they want to buy more items the same way
Bargain Bot Pro
Bargain Bot Free
Bargain Bot Pro

Bargain Bot Pro version Features
Enable/Disable Bargaining Bot (hide the make your offer button on the product single page)
Exclude sale items (If enabled Bargaining button will not display for products that are already on sale)
Enable for specific product/s by adding Minimum Acceptable Prices or enable globally
Enable global maximum acceptable discount for all products (one click set up) 
Exclude categories from Global discount
Exclude products on sale
Maximum Bargaining Allowed Limit
Minimum product quantity required for bargaining
Exit Intent Detection to activate bargain bot. Bargain bot comes to action if shopper intends to leave the site or close window.
Option to enable the Bargain Bot for only Exit Intent (not show the Make offer button)
Option to ask for phone number instead of email in final step
Shortcode to show Bargain button on any page of your website
Set how many Bargaining is allowed before accepting the admin set minimum price
Send final offer set by admin by email
Disable sending the final offer by email
Change quantity on the Bargain window
Allow only logged-in users to Bargain.
Option to re-position the Make your offer button
Change admin email and subject
Custom CSS area to modify button or lightbox design using your own CSS code
Define Minimum Acceptable Price under individual product to Override the global discount value.
Options to change all languages from the plugin settings (bargaining bot can be used with any language)
Supports both woocommerce Simple Products and Variable products.
Compatible with with WoowBot Pro
Bargain Bot Free
We Provide Custom Features & Customization Service for This PlugIn. Want to Extend?
Pre-sale Questions? Feature Suggestions? Support of Bug Fix Requests? Simply Shoot Us a Mail
Non Profit Organizations Maybe Eligible for a hefty discount on the Pro Version. Please eMail Us with Link of Your Page.